Lexicon is always pleased to announce new books, and we especially love romance with a bit of suspense. We are pleased to be a stop on the Tasty Book Tour for Last of the Red-Hot Riders by Tina Leonard. Though you can't judge a book by its cover, again I can't help myself, this one looks smoking hot!
Smokin' Hot or
NOT

?
You be the judge. Leave a comment or tweet.
The Blurb:
The toughest rodeo rider in Hell, Texas, discovers his tender side with a feisty cowgirl in this sexy new novel from USA Today bestselling author Tina Leonard.

Cameron Dix knows that becoming an elite rider is the first step to realizing her dream: owning a special-needs equestrian academy. Only one thing stands in her way—and he's big, tall, and sizzles like a Texas steak. Superhunk Saint Markham claims that he isn't happy about all the women galloping into town, but the heat in his eyes tells Cameron a different story. What else can a fiery redhead do but let her hair down and give in to desire hot enough to melt her saddle?

Saint has seen what happens when women come marching into the Hell's Outlaws Training Center: Strong men crumble. Problem is, he's got rivals willing to train a talented lady rider like Cameron. But after one night of passion, he's branded. And from the moment he kisses her ruby lips, Cameron is his—even if he's too stubborn to admit it. Now Saint must stake his claim on a life of delicious sin with the woman he loves.
Kate's Book Report:
There is lots of steamy romance and humorous intrigue here. Tina Leonard continues her romp through Hell in this sexy follow up in her Hell's Outlaws series. In her first installment, Last of the Red-Hot Cowboys, Trace has already gone down in flames, succumbing to his undeniable attraction to Ava. In that book we get the first sparks between Saint and Cameron, and we already know that Saint (a little devil in disguise) is totally going down. Stubborn men in denial must be Leonard's secret fantasy, because these Hell men are hellbent on trying to ignore the truth. Their blond bombshell matchmaking mayor is on a mission to get these guys hitched. And it is a seriously fun journey watching them fall one by one.
There isn't a whole lot of mystery here in terms of the ending. These books are all about what happens in the middle. The players are already known and the end result sure. But that doesn't make these books totally predictable. These riders are in for a bronco bumpy ride. And that makes for seriously entertaining reading.
I like this series, and Last of the Red-Hot Riders is a fun book that deserves a special spot in your beach bag.
My Rating:

The Excerpt:
Now for the good stuff! A little taste to tempt your reading palate…
Yes, it was a cold day in Hell. And today there'd be another cold shower, and maybe even a dip in the creek.

"That's enough for me today," Saint called. "I'm heading out."

Cameron turned. "Too hot for you?"

Hell, yes, you are. But that doesn't mean I wouldn't be interested in getting burned.


 "A beer won't do me wrong." He waved, turned to go.

"Saint, hang on." Cameron walked her horse to the side of the arena where he'd been leaning against a short wall, watching her. "If you're going to Redfeather's, I'll buy you that beer."

This wasn't entirely out of the blue. Any night of the week might find several of their gang crowded into a black leather booth in the dark bar and grill. Friendly enough. But as he looked into Cameron's sparkling, clear blue eyes, Saint felt uneasy.

She treated him like a friend, a brother, and he'd been friend-zoning himself ever since she'd arrived in Hell—except for his one momentary indiscretion. Trace and Declan said he was a dumb-ass to take himself out of the running, and that he was being unusually cowardly to consign himself to the just-friends category so soon.

But as Declan wasn't being brave and declaring his secret undying passion for Harper Castleberry, Cameron's housemate and also a member of the Hell's Belles. Saint figured his friend had no business masquerading as a romance adviser. Trace had finally gotten around to letting himself fall hard for Ava, but the process had been long and painful for all, and Saint prided himself on having learned from that experience. Better a woman who called you a friend than a woman who didn't want to be in the same room with you.

Hell was a very small town. Awkwardness was best avoided.

Who was he kidding? Awkward had happened the moment he'd stolen a kiss. Not that he regretted what he'd done—even the shot to the balls she'd dispensed couldn't make him regret kissing her. No, the regret was due to the overhang of discomfort that clouded his every encounter with Cameron now. He stayed stuck in a dimension of wanting her, remembering how sweet her mouth was, and realizing she was totally, completely off-limits.

"Isn't it my turn to buy the beer?" Saint asked, his voice carefully casual.

"It might be, but I want to talk to you. Privately."

This was a first. He mentally reminded himself that smart men waited for the move to be made before they showed their cards. "Sure, no problem."

Relaxed and casual. Easygoing Saint. No problem, because he had everything under control.
I have a feeling everything is about to get out of control!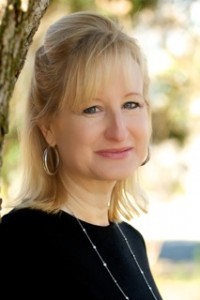 Author Info
USA Today Bestselling and award-winning author Tina Leonard has sold over 3 million books, making the USA Today, Waldenbooks, Bookscan, and Ingrambook bestseller lists, and publishing over seventy titles. Her work has been contracted by Random House Loveswept, Samhain Publishing, Harlequin, London Bridge, and most recently Diversion Books. Leonard is known for her sparkling sense of humor, endearing communities, snappy dialogue, and memorable characters that include sexy hunks with attitude and heroines with plenty of sass. Join her at www.tinaleonard.com
Author Links:   Website | Facebook | Twitter | Goodreads
—
Kate E. Stephenson is a freelance communications specialist whose business encompasses content writing, comprehensive editing and quality resume services. Lexicon is her brainchild, a blog all about Language—insight into today's job market and hiring tips, book releases and reviews, and general folly concerning the many mysterious facets of the English language. Be sure to read more about Kate, check out a full listing of services and rates, and enjoy her weekly columns on Kate.Book.com!
Save
Save
Save